ELMOR S.A.
ul. Spadochroniarzy 20
80-298 Gdańsk
POLAND
tel.: +48 (58) 785-36-70
fax: +48 (58) 762-93-19
e-mail: elmor@elmor.com.pl
EA control desks and consoles
EA control desks and consoles
Monitoring-control consoles and cabinets of automation systems provided for vessels and for land exploitation as well, are important part of ELMOR's production range. Rich experience on this field of activity is a result many years' designing. Our products are reliable, functional and aesthetic.
Our offer includes:
technical advisement in a scope of complex solutions for engine rooms automation systems and for concrete elements of these systems (control consoles and cabinets, control equipment, measure and signalling equipment etc.);
technical advisement in a scope of production of automation cubicles provided for exploitation on land (industrial facilities, public utility projects, etc.);
making of concrete designs of consoles and automation cubicles.
delivery of complete equipped automation consoles and cubicles and exploitation documentation, as well;
delivery of equipment provided for installation on objects (scope agreed with a contractor);
delivery of spare parts.
Our company co-operates with many well known domestic and foreign firms, which are our sub-suppliers of control equipment, measure equipment, computer stations, controllers, etc. We pay special attention to useful lifetime, reliability, novelties and aesthetic of performance. Our company owns ISO 9001 Certificate.
Desks and consoles for shipbuilding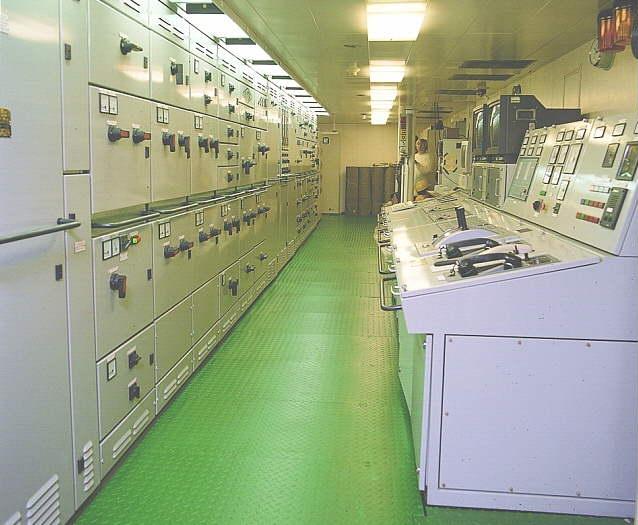 Automation system equipment provided for operation in marine conditions is a specific domain of production due to special requirements concerning resistance to marine conditions, reliability, safety, necessity of compliance with sailing safety requirements, classification societies' rules and certificates of classification societies. Due to these reasons, only companies with proper production potential and big experience in this domain can produce this kind of equipment. Moreover, specific designing provided for single objects or short series needs big flexibility and experience. Our company fulfils these conditions.
For marine industry we produce various consoles, cubicles and desks provided for sea-going ships and for floating dock, barges and tugs as well.
Our offer includes following types of consoles:
Navigation and control consoles installed in wheelhouses
Bridge wing consoles
Overhead consoles
Engine room automation consoles
Consoles and cubicles provided for controlling of ballast and bilge systems and fuel transfer
Loading control consoles.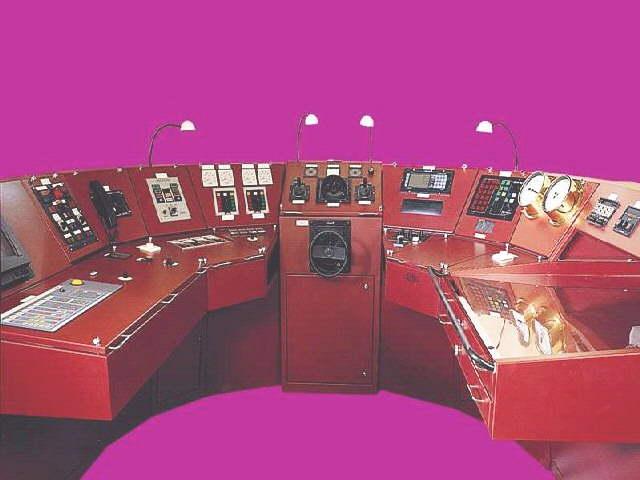 Shape, dimensions, equipment and functions of the console are agreed each time with a customer. We have also own standard solutions of console construction. For customers' request we send information concerning typical shapes of consoles.
As standard, consoles are made of 2mm steel profiles, covers and doors. Protection degree of the construction is IP23.
Moveable horizontal covers, screwed shields and rear doors enable easy access to apparatuses installed inside. All doors are equipped with door retainers holding them in open position. Individual panels of the console can stand as single units or in sets requested by a customer.
For special request of a customer, consoles can be tested for mechanical resistance, environmental condition resistance, electromagnetic interference, etc.
Consoles for land facilities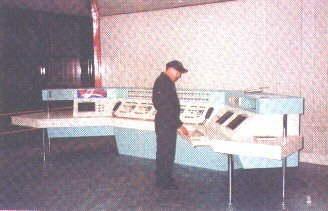 Separate parts of our offer are switchgears and consoles provided for land operation. Consoles designed by ELMOR are applied in various industrial facilities as consoles in operational check points of technological facilities, consoles in control rooms, consoles for monitoring and control of different production processes, etc. This kind consoles are made with use of relays, and programmable controllers, as well.
Our designers can conform the construction of these consoles to individual needs and requests of our customers. We are still making modifications and improvements of our products, so our consoles are applied in very untypical conditions like in e.g. town tramways. Such consoles have to comply with very strict requirements concerning aesthetic, ergonomics, safety of service and reliability of operation.
All the time we are trying to extend the assortment of our production.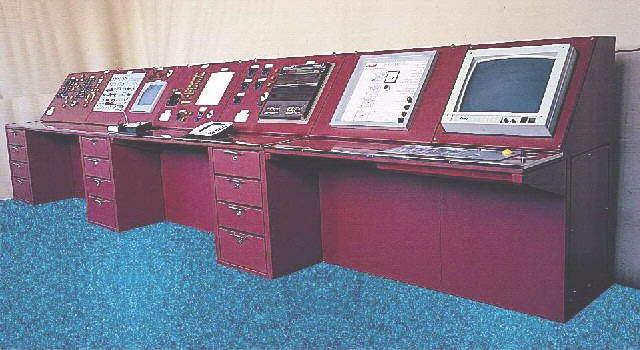 Attachments