ELMOR S.A.
ul. Spadochroniarzy 20
80-298 Gdańsk
POLAND
tel.: +48 (58) 785-36-70
fax: +48 (58) 762-93-19
e-mail: elmor@elmor.com.pl
RNG switchgears and controlgears
RNG switchgears and controlgears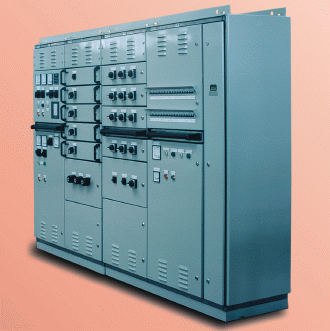 Modular system of switchgears and controlgears RNG – elaborated by ELMOR S.A. – is a complete construction-assembly solution in the scope of LV distribution-control equipment.
The Polish patent law protects many innovative solutions, which have been applied in RNG system.
Modular and unified construction allows for big flexibility during designing, production, exploitation and possible modifications.
RNG system assures among others:
assembly possibility of different functional blocks in one switchboard,
assembly possibility of stationary, plug-in and draw-out apparatuses,
assembly possibility of functional blocks on fixed plates, plug-in plates or in draw-out units (drawers),
application of fuse-switches as horizontal or vertical withdrawable units,
possibility of internal division by means of fixed partitions or shutters,
access to apparatuses from one or two sides,
variety of supply and outgoing connections (top and bottom) by means of cables and bus bars,
adaptability to different network systems: TN-S, TN-C-S, TT, IT,
resistance to aggressive industrial environment.
Construction:
Switchboard frame of RNG system is made of steel half-closed channel profiles 50x25 mm perforated every 25 mm. The profiles are connected with a special corner connector by means of screws. Depending on necessity and function, the switchboard frames can be completed with such elements as: shields, doors, mounting panels, brackets, drawers guides, drawers, foundation frames, roof. Distribution- control sets of the RNG system can be carried out as completely shielded as only partly, as standing near a wall with service from front side or free standing with service from front and back side.
Height of panels (boards), functional units ( fixed and placed in moveable drawers and plug-in plates) is a multiple of the basic construction module i.e. 25 mm.
All construction elements besides painted doors and external shields are made of Galfan – material of high resistance to corrosion. Galfan is a high quality steel sheet with alu-zinc coat.
Electric system:
The RNG system provides following kinds off bus-bars:
horizontal main bus-bars placed in the bus-bars compartment,
vertical bus-bars placed in the bus-bars compartment connected with the main bus-bars serving for supplying of functional units (eg. drawers) in individual switchboard panels,
main neutral (N) and protective (PE) bus-bars placed at the front of the switchboard alongside the apparatus and terminal compartments.;
The RNG system is the optimally designed and tested bus-bar system of very high short-circuit current withstand. The system is assembled on special insulators made of modern insulating materials enabling easy connections and attachment without necessity to perforate the bus-bars. Bus-bars are made of copper.
The RNG system offers many solutions of functional units wich can be designed as single or double units. Apparatuses of the functional units can be installed in the segments as fixed equipment or in the drawers or plug-in panels. Drawers and panels are unified electrically and mechanically.
Withdrawable units (drawers) allow to limit supply interruptions of consumers or of any other important receiver till the moment of taking out the unit from its compartment and replacement it with an other one or till quick repair of small fault.
The moveable drawers can be placed in four positions:
operation
test
disconnection
separation
In "test" position it is possible to check the auxiliary circuits assuring a safe pole gap (insulation clearance) in the main circuit. Special insulation barriers on the vertical bus-bars assure protections against touch the alive parts in "separation" position, i.e. after removal the drawer from a panel. Moveable drawers can be completely taken out from a segment and replaced with other ones, even if the bus-bar system is live.
Technical data:
Insulation rated voltage
69 V
Rated frequency
50¸60 Hz
Switching voltage
220/440 V AC
110/220 V AC
400/690 V AC
440/600 V AC
Rated current of main bus bars
5500 A*
Rated current of supply and outgoing feeders
3000 A*
Rated current of bus bars of one panel
800 A*
Rated withstand current 0,5s of:
bus bars
115 kA
panel bus bars
50 kA
Rated peak withstand current of:
bus bars
253 kA
panel bus bars
153 kA
Protection degree
IP20-IP56
* Higher values are possible after consultation with ELMOR S.A.
A
500; 600; 800; 1000; 1200
A1
200; 400
B
325; 425; 500; 625; 750; 875; 1260
H
1850; 2050; 2250
Heights of segments H and of drawers K are multiples of a construction module u =25mm. Multiples for standard height of segment and drawers are following:
for H = 1850 mm, 74u
for H = 2050 mm, 82u
for H = 2250 mm, 90u
for K2 = 150 mm, 6u
for K3 = 250 mm, 10u
for K4 = 375 mm, 15u
for K5 = 500 mm, 20u
for half drawers K1 = 200mm, 8u
Tests and certificates:
POLISH REGISTER OF SHIPPING /PRS/
MARINE ENGINEERING CENTRE – Gdańsk
ELECTROTECHNICAL INSTITUTE – Department in Gdańsk
RNG system of switchgears had been tested within a range of full type tests (TTA) acc. to PN-IEC439-1 +AC and acc. to requirements and under PRS supervision and they have got the PRS Certificate of Type Approval.
| | |
| --- | --- |
| | |
| Section of switchboard type RNG | Apparatuses compartments after taking out withdrawable units |
| | |
| Drawer in "disconnection" position | Drawer in "test" position (upper) |
| | |
| RNG withdrawable unit | Bus-bar compartment of RNG system |
Attachments