ELMOR S.A.
ul. Spadochroniarzy 20
80-298 Gdańsk
POLAND
tel.: +48 (58) 785-36-70
fax: +48 (58) 762-93-19
e-mail: elmor@elmor.com.pl
Single busbar WEGA MV switchgears
Medium Voltage Switchgears with single busbar system type WEGA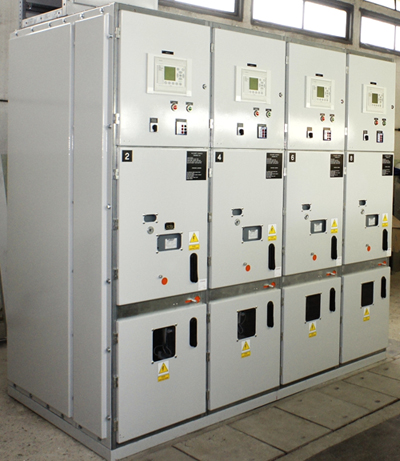 Unified construction system type WEGA enables:
Building of metal-enclosed switchgears of rated voltage 7,2; 12; 17,5; 24 and 36 kV provided for indoor installations
Building of cubicle switchgears or metal-clad switchgears with metal partitions - acc. to Norm PN-EN 62271-200:2007 and PN-EN 60298:2000, PN-EN 60694:2001.
Building of single-unit switchgears with fixed components or double-unit ones, where a main circuit-breaker is installed on withdrawable unit
Building of free-standing switchgears or wall switchgears. All activities connected with switchgear service and including power cable connection are carried out from front in wall switchgears
Building of switchgears with high protection degree against touch of live parts - standard protection degree is IP4X acc.to IEC 60529
Building of metal-enclosed switchgears resistant to electric arc acc. to PN-EN 62271-200, which ensure high protection degree of people against electric arc effects
Building of switchgears, where changing over of a withdrawable unit from "work" position" to "test" position is carried out at closed door of a switchgear. Withdrawable units are equipped with very easy to service withdrawable mechanism including a system of interlocks, which eliminates switching mistakes. Changing over of the withdrawable unit can be done also remotely by means of an electric motor.
WEGA double unit, metal-clad switchgears
WEGA type double-unit metal-clad switchgear in air insulation consists of a fixed and withdrawable unit.
There are following compartments in the switchgear:
Bus bars compartment,
Connection compartment,
Auxiliary circuits compartment,
Withdrawable unit compartment.
The compartments have been arranged thanks to metal – clad design. Frame assembled construction is made of screwed perforated profiles and steel sheets. Applied reinforced door, shields and ventilation flaps (top or bottom) ensure full protection against electric arc and its effects (up to 1 s) acc. to PN-EN 62271-200.
High safety degree of service has been achieved thanks to following solutions:
Changing over the withdrawable unit from "work" position to "test" position and inversely is carried out at closed door of the withdrawable unit compartment,
Metal partitions shield automatically live parts when the withdrawable unit is moved to "test" position,
Mechanical and electromechanical interlocking systems prevent from incorrect operations,
Protection against electric arc is carried out acc. to the international Norm PN-EN 62271-200,
Separated compartment of auxiliary circuits prevents from access to high voltage circuits.
Switchgears WEGA have passed test on hard desert conditions of Saudi Arabia
Switchgears type WEGA comply with requirements confirmed with tests and certificates issued by Electrotechnical Institute in Warsaw, Poland.
Technical data:
Technical data
Type
WEGA 07
WEGA 12
WEGA 17
WEGA 24
WEGA 36
Rated voltage [kV]
7,2
12
17,5
24
36
Rated frequency [Hz]
50 or 60
Surge withstand test voltage [kV]
60
75
95
125
170
Test voltage 1-min [kV]
20
28
38
50
70
Rated current of bus bars [A]
up to 3150
up to 3150
up to 2500
up to 2500
up to 1250
Rated current n-sec [kA/s]
31,5
31,5
31,5
25
25
Peak rated current [kA]
up to 80
up to 80
up to 80
up to 63
up to 63
Immunity on internal arc [kA]
31,5
31,5
31,5
25
25
Immunity class on internal arc
AFLR
Housing protection degree
IP41
Arc fault protection [kA]
31,5
31,5
31,5
25
25
Main dimensions
Width [mm]
600÷1000
600÷1000
600÷1000
750÷1000
1200÷1600
Depth [mm]
1250÷1450
1250÷1450
1250÷1450
1450÷1600
1900÷2200
Height [mm]
2100÷2250
2100÷2250
2100÷2250
2250÷2350
2500÷2600
Attachments