ELMOR S.A.
ul. Spadochroniarzy 20
80-298 Gdańsk
POLAND
tel.: +48 (58) 785-36-70
fax: +48 (58) 762-93-19
e-mail: elmor@elmor.com.pl
Withdrawable units of MV switchgears
Widthdrawable units of Medium Voltage switchgears with vacuum circuit breakers - retrofit
Rated voltage: 12 kV
Continuous rated current: up to 2500 A
Breaking current: up to 40 kA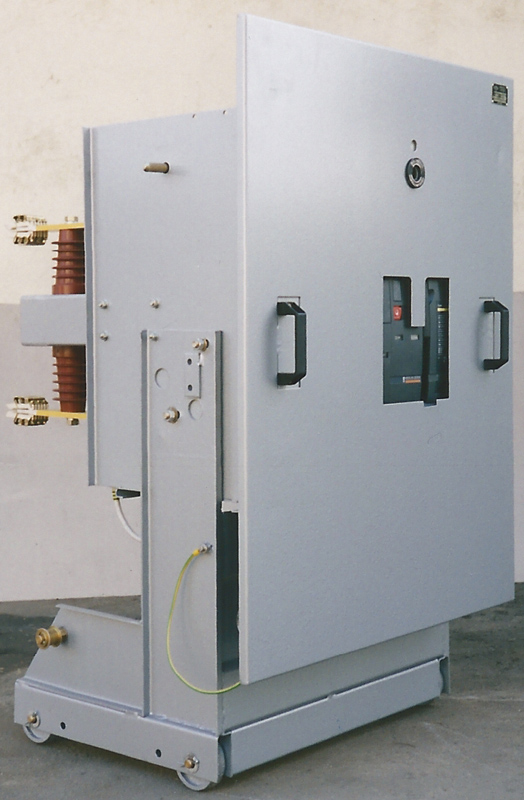 Application
Withdrawable units of switchgears with vacuum circuit breakers for rated voltage 12 kV and continuous rated currents up to 2500 A and breaking currents up to 40 kA have been designed and implemented to production by ELMOR S.A.
Users old types of switchgears for example -type RSW 10, PREM 10, PROPEL 1, RD1, RD2, ELMOBLOK III, and other are able to make a complete modernisation - retrofit and improvement of technical quality of circuit breaker cubicles through replacement of worn out withdrawable units with oil-poor circuit breakers by new ones. New units can be equipped with modern circuit breakers of such producers as: ABB, ALSTOM/ Areva, JM-Tronik, Schneider Electric (Merlin Gerin), Siemens, Tavrida Electric.
Advantages
Application of vacuum circuit breakers with much better technical-exploitation features than oil-poor circuit breakers features, especially as it concerns mechanical strength and switching capacity and equipped with spring drives charged by means of a motor gives following effects:
oil, compressed air and plants connected with these mediums as well, can be eliminated from switchgears,
safety of service is increased,
operational reliability is increased,
range and frequency of surveys , services and maintenance is decreased.
Construction
Technical parameters and equipment of the withdrawable units with vacuum circuit breakers can be adapted to all used till now switchgears for example type RSW10, PREM 10, PROPEL 1, RD1, RD2, ELMOBLOK III, and other.
Depending on necessity the units can be equipped alternatively with one or two current transformers protected with fuse elements or with three overvoltage limiters. Adjusted fastenings of circuit breakers and of connector contacts between units and of a front plate as well, assure a possibility of precise matching a movable unit to each switchgear.
Low voltage circuits of the circuit breaker and of current transformers are led to a typical plug of a 30-pole contact junction installed in a fixed part. All functions connected with control, protection and signalling are maintained without a necessity of making any changes in low voltage equipment of the switchgear.
How to order:
Order must include:
rated voltage, rated continuous current and breaking current,
parameters of a motor and of circuit breaker releases,
information if the withdrawable unit has to be equipped with current transformers or overvoltage limiters and a counter of re-set cycles.
Accordance with norms
Withdrawable units comply with the following norms:
IEC 60694:2002
IEC 62271-200:2007
IEC 62271-100:2006
Assortment of the proposed withdrawable units *
Rated voltage
Continuous rated current
Rated breaking short circuit current
kV
A
16 kA
20 kA
25 kA
31,5 kA
40 kA **
12
800
X
X
X
X
X
1250
X
X
X
X
X
1600
X
X
X
X
2000
X
X
X
X
2500
X
X
X
X
*) we also realise individual requirements for withdrawable units
**)with HVX circuit breaker (SCHNEIDER)
Dimensional drawing of example solution with EVOLIS vacuum circuit breaker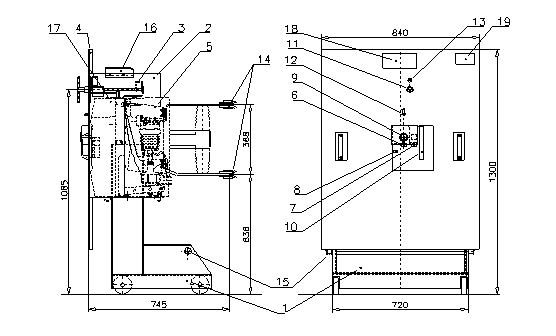 Truck
Support construction
Interlocking mechanism
Front plate
Circuit breaker
Circuit breaker position indicator
Making spring position indicator
Circuit breaker tripping mechanical counter
Cut-out push-button
Making spring charging lever
Socket for interlocking lever
Locking key mask
Truck interlock indicator
Moving contacts of a connector between units
Rollers for hoisting of moveable partitions
Limit switch cam
Low voltage joint plug
Service Manual
Withdrawable unit rating plate
| | |
| --- | --- |
| | |
| Withdrawable unit - front view | Example solution with EVOLIS vacuum circuit breaker produced by Schneider |
Attachments